The winter social season got off to a cracking start at the Sea View on Monday, 11th October. It was great to see a couple of dozen old faces and plenty of new ones eager to get together, talk parabollox over a couple of pints and to listen to John Westall describe "A Year in the Life of a Hike and Fly Pilot". John gave us a run through 2020's programme of gruelling hike-and-fly challenges he'd done with his flying mate Keith 'Bud' Patterson. He had us all on the edge of our seats with his descriptions and pictures of the sketchy take-offs and dodgy conditions which are 'normal' for these exploits. From our local hills, via Wales, the Lakes and Dales, to the grandeur of the Eiger, we enjoyed vicariously the thrills (and spills) of his year.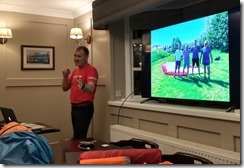 John shared with us that his own inspiration to take on this challenging aspect of our sport came from attending a PSC winter social night with Steve Nash. Maybe some of our keen young pilots will get similar inspiration to follow John's rapid progress. Certainly they will need to follow his examples of meticulous planning, preparation and goal-setting if they want to get close.
Thank you for a great evening, John, we're already looking forward to hearing about next year's achievements.