Lesson of the day,,,, beware of the gulley! (all the gulleys).
Saturday 23rd March.
All forecasts for Parlick looked promising, so I arrived at the hill 9.00am sharp grabbing a vip parking spot right next to the gate and off I went.
After the usual slog up the hill myself and a couple of other pilots sheltered behind the wall on the west face, talking parabollocks and waiting for the wind to drop slightly, which it did 30mins later.
Everyone did the usual set up and launch into nice smooth conditions around 10.30ish.
I'd set my self a bit of a goal to get to Fairsnpe so off I puteled on my own scraping round the bowl at ridge height, not great in a wnw and with not much height, as soon as I got onto the corner quite low I anticipated a struggle to regain altitude.
Making it around the corner of Fairsnpe I was low, the wall was getting closer so I figured the best option would be slope land, walk up and re-launch again. I then make a speedy dash back to the safety of Parlick. All went well except for the 15 minutes wasted walking the rather steep rocky hill to get to a grassy patch for take-off.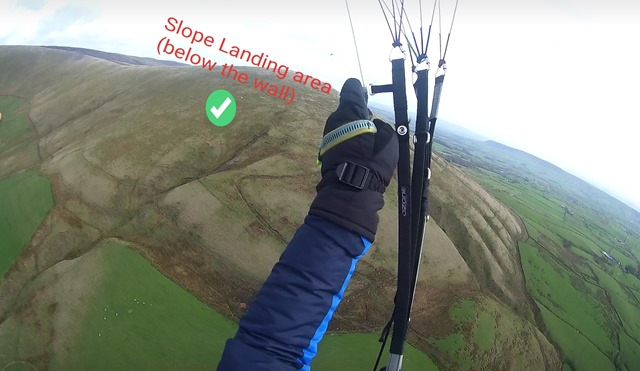 Landing back at the Parlick west just below the wall was predictable and easy, had a chat, drink, chill, then set up and off again for more flying fun.
Had a nice boat about chasing gulls, got a few thermals and then decided to go for another slope landing in the same spot.
I knew I'd ****ed up on the approach. The wind had picked up slightly, plus it had a bit more north in it of a few extra degrees. I had lost my height out front to scoop in off that wsw shoulder to the usual launch /landing area. On the down wind leg of the approach I left it far to late to break left and had drifted to far south
I went to far round the corner, hit massive sink, and the increased wind speed that funnels round the hill reduced my forward speed to a snails pace. Going down I glanced over my right shoulder realising how close I was to one of the many large gulleys, this is not the place I wanted to be, possibly rocks and rotor. Uncross the legs getting ready for the inevitable dump I was mentally prepared,  then as soon as my feet touched mother earth I was going backwards falling backwards onto my arse! A fast shock stall yank on the brakes brought the wing down immediately and I jumped back onto my feet rather relieved to gather my glider and make the walk of shame back round the corner of the originally planed landing area. Maybe I should have had hold of the C's on touchdown?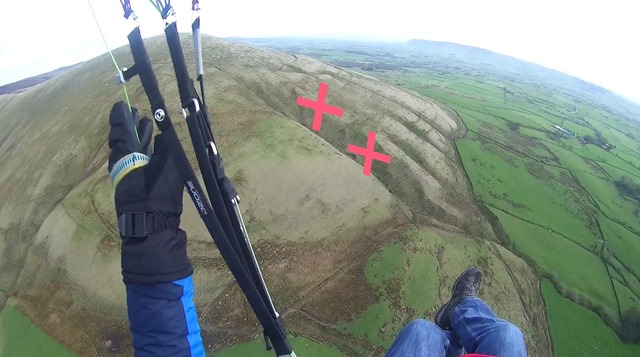 Lucky to get away with it unscathed sprang to mind.
Stay safe out there folks
YouTube link of the event-
Regards, Barry