Hi All,
A couple of weeks ago one of our members was challenged by the Wolfen Hall Gamekeeper for landing in the fields below Saddle End Farm. It seems that the the owner of Wolfen Hall purchased Saddle End Farm and surrounding land a few years ago, as such they are now breeding game birds on the land surrounding Saddle End as well as the land directly below the east face of Parlick.
We have been asked not to land in the area marked in red on the plan, this is a much larger areas than previous. Please adhere to this.
If you are approached by the game keeper please be respectful and understanding of their frustration with you, it is their livelihood after all. Please report it to me so that I can manage the situation.
As it was the PSC member involved had a good conversation with the gamekeeper and reported it to me straight away, this allowed me to contact both the game keeper & landowner to understand the issue and obtain the latest info of the Exclusion zone.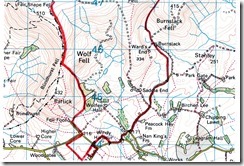 Thanks
Andy Archer
PSC Sites Officer
07824 321575