Pennine Soaring Club Annual General Meeting (AGM) Minutes
11th February 2019, The Sea View Inn, Chorley
Apologies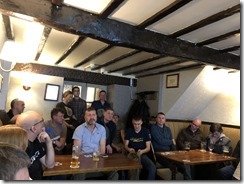 Paul Hester, Club Secretary, sent his apologies prior to the AGM and requested that Jacob Cleverley represent him and take the minutes.
There were 29 attendees in total for the AGM.
Opening
The AGM of the Pennine Soaring Club was opened by Graham Jones, Chairman at 20:02.
Chairman's Opening Statement (Graham Jones)
The Chairman expressed how much the committee have done for the success of the club in the past year, with a notable appreciation for the efforts of Jim Ashley for services to the club, and how this should be appreciated by the membership.
The Chairman concluded that he will be standing down from the role and from the committee.
Officer's Reports
Treasurer
Treasurer Jim Ashley showed the attendees a comprehensive spreadsheet of the club finances from 2017 and 2018. The key figures are as follows:
| | | |
| --- | --- | --- |
|   | 2017 | 2018 |
| Income | £4,161.17 | £5,842.29 |
| Outgoings | £2,983.79 | £5,351.94 |
| Total | £14,434.82 | £15,041.55 |
The Treasurer noted that there were some abnormal costs that made the Outgoings 'look' worse than they actually were, and that overall the club finances were in a good state.
Donations to the North West Air Ambulance (NWAA) Charity from club events and sale of assets had gone through with Gift Aid. The Treasurer also noted that there is now an NWAA Charity shop in Longridge, and encouraged the membership to utilise it.
Membership Secretary
Membership Secretary Jim Ashley reported that in 2018 there were approximately 180 members. He highlighted that there were some members who underpaid, but upon investigation this is usually people who do not fly or participate in club activities any more but still have a direct debit running. Therefore it is not a major cause of concern. There are some people who are paying into the club account and cannot be contacted- e-mails, texts and letters have been posted with no reply.
The Membership Secretary stated that helmet stickers will not be posted to all members this year because of general lack of use by members, but there are stickers available to members upon request.
It was noted that the reduced rate of £10 for new members is adequate and the BHPA membership is very healthy. It is the best ever recorded and only three lapsed- all of which reinstated immediately upon request.
Sites Officer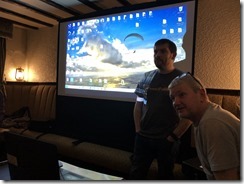 Andy Archer reported that it had been a good year in terms of sites. Bottles have been delivered to landowners/farmers/gamekeepers as a mark of goodwill, and they all seemed amicable of the club's activities in the past year.
The Pendle East site is still not condoned by the club but efforts are being made to regain the site through contacts of the landowner.
The license fee for Nont Sarahs/Pule Hill has been proposed to be increased by the National Trust. This was discussed with the membership who attended the AGM an action was taken to question the National Trust on this issue. The club committee are considering whether to retain the site or serve notice on the licence as it was considered rarely used by PSC members. The club will canvas the membership and DHPC who contribute 50% towards the licence fee. The matter will be discussed at future committee meetings.
ACTION: Respond to the National Trust and determine level of usage of the sites by PSC members.
A question was raised by an attendee about the condition of the Edenfield site due to motocross bikes causing land damage- it was agreed this would be monitored. Also, the potential use of the '007' site was raised and discussed- from past issues it was determined that although it shouldn't be disregarded, it was unlikely.
Safety Officer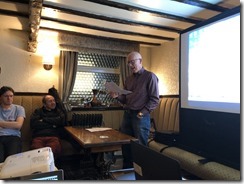 Brian Stewart noted that 6 people took the club incentive and completed SIV courses in the past year.
There were 4 Pennine Incident Reports raised in the past year:
· A Hang Glider incident on Parlick in March
· A fast landing on Fair Snape resulting in injuries in May
· A serious head injury at Nont Sarahs in May
· A tandem accident on Parlick in August.
Brian noted there were some minor incidents that were not reported, and encouraged members to report any incidents since identifying a hazard could help pilots avoid accidents in the future.
There was one conflict with the Bowland Forest Gliding Club which was dealt with well and amicably. There was also an Airprox report raised by a Paraglider pilot due to a proximity incident with a Sailplane.
It was noted how winter conditions once again caused headaches due to ground level inversions and large wind gradients, but also noted that awareness of this utilising online forecasts with wind at altitude seems to be improving. No incidents were reported over winter.
Brian reiterated the message that Aviation is serious and Paragliding/Hang Gliding/Powered is unforgiving and not easy, with practice being absolutely key. He also emphasised the importance of caution in the upcoming Spring unstable air, and to do something about dangerous or potentially situations by speaking up to pilots or the Safety Officer.
The £50 subsidy for first time SIV members will be continued, and a First Aid course will be scheduled in due course.
Stay safe!
Chief Coach
John Murphy emphasised the importance of safety and his method of 'staying scared' so as to not forget the hazards when conducting flying operations.
John stated the 3 lectures for the Pilot Rating exam were well attended and a great success, with several pilots also sitting the exam.
It was reported that Coaching days have been blighted by poor weather, but still have been successful and valuable with site briefings, coach advice and ground handling sessions with attendance and awareness steadily increasing. John stated that pilots of all levels, from newly CP'd to XC seekers, can benefit from attending the coaching days. The efforts of Jim Ashley were once again noted for heading out rain or shine! John said people who want to be coached should be proactive about it to get the best results.
John also mentioned the new BHPA Pilot Development Structure and encouraged people to use it. Also, he has some foreign pilots conducting alternative entry to the BHPA and encouraged anyone who wants this/knows someone who would benefit to contact him.
Competition Secretary
Simon Blake reported the tremendous success of the BP Cup round with 4 consecutive taskable days.
Simon reported on notable PSC competition performances:
· Richard Butterworth achieved a top 10 finish in the National XCLeague table with 1015.3 points.
· Jack Pimblett achieved a top 10 World ranking in Acro paragliding.
Simon reported an increase of Pennine flights in the XCLeague and an increase of pilots entering flights from the PSC.
Simon laid out the challenge for the year involving XC flights from Edenfield- a site with minimal entries but a lot of potential. There is no declared flight from Edenfield and Simon laid out the rules for pilots to potentially set a site record.
Webmaster
Carl Fairhurst demonstrated the new website to the room which is a staggering improvement aesthetically and functionally- and is also more mobile friendly. Events are now shown on the homepage of the site, and encouraged members to submit any suggestions and improvements.
The option of having a PSC YouTube channel is being investigated.
Social Secretary
Andy reported that the Christmas do was excellent, well attended and more upmarket this year! Several successful club nights including Richard Carter, Jocky Sanderson and the PSC SIV candidates all delivered excellent and informative talks.
Secretary
Paul Hester could not attend but Jacob Cleverly passed on his message. A constitution change was proposed whereby club members who perform at high level International competitions would have their membership fee waived, at the discretion of the committee. This was proposed, seconded and passed with no objections.
Social Media
Catherine-Anne Scott reported on the improvements made in the club social media accounts, with new additions including an Instagram account to showcase the club activities.
Power/Hang Gliding Coordinator
Simon Scott reported that he was not aware of any reported incidents. There was one Paramotor pilot who landed on Parlick, but this incident was dealt with by members on the scene.
Simon informed the membership that the Power Nationals are relatively local and take place from the 23rd to 26th August.
He stated there were no known issues at the designated power field and anyone who is interested in Paramotoring can contact him, with an emphasis on getting power training since it has different hazards to free flying.
Simon thanked Andy Archer, Sites Officer, for negotiating to get the Hang Glider landing field available at Parlick.
Events
Tim Gridley is arranging the annual Penninefest, which is all going smoothly.
Thanks to all Committee members for their efforts during the year and contributions to the AGM.
Election of Officers
The following officers stood for re-election to the committee:
| | |
| --- | --- |
| Safety Officer | Brian Stewart |
| Treasurer | Jim Ashley |
| Membership Secretary | Jim Ashley |
| Competition Secretary | Simon Blake |
| Webmaster | Carl Fairhurst |
| Sites Officer | Andy Archer |
| Chief Coach | John Murphy |
| Power/Hang Glider Coordinator | Simon Scott |
| Sub 20 Officer | Andy McLoughlin |
All were Proposed, Seconded and elected unanimously.
Paul Hester and Graham Jones stood down from their positions on the committee. They were thanked for their outstanding contributions to the club. Andy McLoughlin stood down from the Social Secretary role but is still the Sub 20 Officer.
The following nominations were proposed:
| | |
| --- | --- |
| Club Secretary | Jacob Cleverley |
| Social Media | Catherine-Anne Scott |
| Social Secretary | Tim Gridley |
| Chairman | Simon Scott |
All were Proposed, Seconded and elected unanimously.
Awards
Best Newcomer
Presented by Graham Jones, the best newcomer award went to Max Kirk.
Most Improved Pilot
Presented by John Murphy, the most improved pilot award went to John Westall.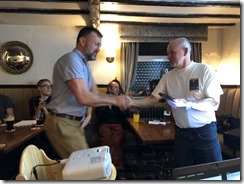 Bent Upright Award
Presented by the previous holder, Simon Blake.
Honourable Mentions: Jacob Cleverley for his patriotic onesie tree landing and Sam Ashley for two incidents including landing on the road to Parlick.
The winner was Billy Maxwell, for being the only pilot to legitimately have to ask 'Am I on fire?' after landing- by clipping a fire-pit.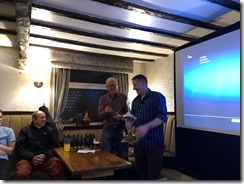 Representing the Club
Presented by Graham Jones, this award went to Paul Winterbottom.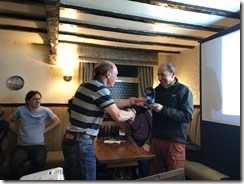 Overseas World Class Performance
Presented by Simon Blake, this award went to Jack 'Pimplett' Pimblett.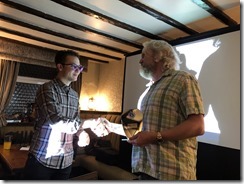 The William Marshall Trophy
Presented by Brian Stewart, this award went to Graham Jones.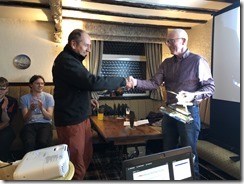 Best Flight
Honourable Mentions: Graham Jones for his 102km Flight from Parlick, Richard Meek for his 126.5km Flight from Fair Snape.
A special mention was raised for John Oliver's 57km Flight from Pendle East.
Presented by Simon Blake, the winner was John Westall for a 118km Flight from Parlick- previous personal best was 31km.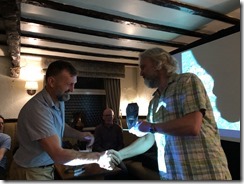 Loop League Winner
The winner of the Loop League was John Murphy.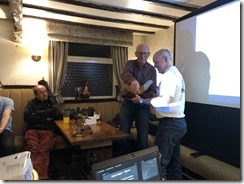 Fun Class League Winner
The winner of the Fun Class League was Paul Winterbottom.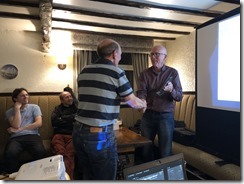 Sport Class and Overall League Winner
The winner of the Sport and Overall League was John Murphy.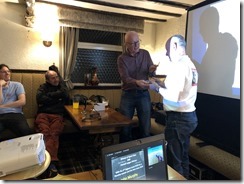 Congratulations to all award winners.
Any Other Business
Nothing to report.
Closure
The meeting was closed at 22:01, with thanks to all members that attended.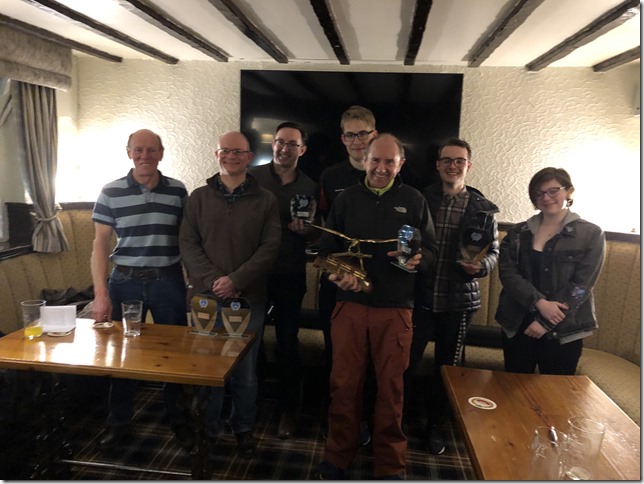 Minutes submitted by: Jacob Cleverley
Approved by: Simon Scott