To get the ball rolling on our new all singing web site, I've been encouraged to write a few words about the first decent day this flying season.
For once the day arrived at the weekend Saturday 23rd March, light winds and WNW. Parlick was the obvious choice but Andy Archer and I decided on Dodd or Wether Fell in the Dales to avoid airspace restrictions - nothing like ambition! We arrived at Wether Fell but the wind seemed a bit west so we decided on Dodd. We managed to cadge a lift and left the car on the main road avoiding the long drive in on the lane for easier retrieval which eventually proved to be a good move. The day didn't initially look too promising but soon brightened up so we all launched into a reasonably buoyant sky. At times the climbs seemed promising but they rarely took us above two and a half thousand feet. Every so often people were peeling off in pairs, it seemed, and making the glide to Wether Fell which is just down wind. Eventually we made a decent height and set off ourselves towards Wether. Dodd gives you a second bite of the cherry should you fail to make a good escape since you can easily drop onto Wether Fell as its only a few kilometres down wind.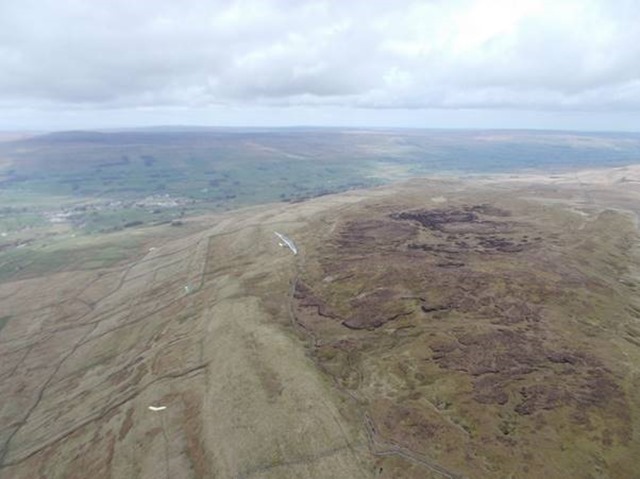 Wether Fell & hang gliders

It was interesting to fly with hang gliders on Wether, it took me back to my early days on Parlick. There was a class 5 rigid wing which was pretty sporty and a flex wing who dedicated himself to scaring the pants off me for the 20 or so minutes it took me to get away. A slow climb to four grand and we set off toward Semer Water, I had been left behind slightly so managed to cut the corner when they all diverted north to a small ridge east of Semer which is used for training I'm told. Anyway, it was a good move as most managed the climb out - we dropped two pilots here who glided off north in search of the road and an easier return. So four were still in it but I had fallen out of the lift and ended up gritting my teeth on a low glide to the next dale. Arriving at ridge height at the lee side I knew I might take a beating but happily the lee ridge was gentle not sharp so little rotor effect and bingo - a lee sider. A slow & a rough one though but it took me to base eventually where I realised I was a climb and a glide behind. Andy, on his Iota 1, had done a fine job sticking with the two ahead, one on a Zeno (D wing) but he had to big ears out of cloud at one point so I was on my guard. There can be benefits to being at the back (as well as getting called a 'pimp') since you can tell when things haven't worked out for the leaders and choose a different route - but I wasn't really close enough and in the end lost sight of them. Airwhere or other tracking software might have helped here.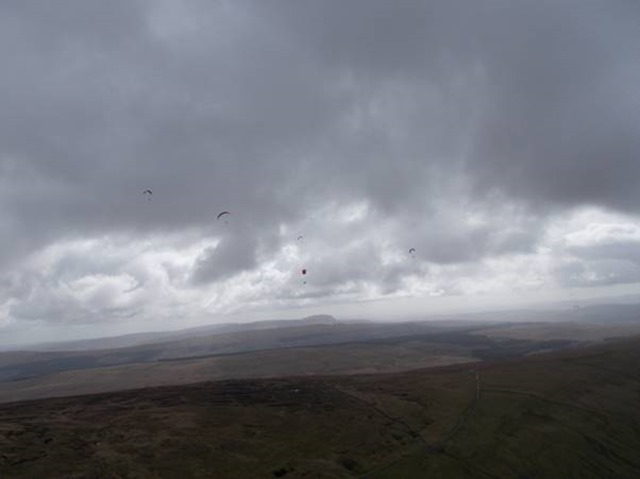 Gaggle
The next moor crossing was a big one with smoke from a heather fire to the south, cloud threatening to suck you in and a huge moor to walk out of if you blow it! Caution was needed here, the climbs were assured to some extent but you needed to judge where you would hit the cloud if at all. The trick was to clip the edge on the downwind side but in the event, I didn't enter cloud at all which is good for me. The gaps between the clouds were quite small so it wasn't that difficult later in the flight but boy was I cold. Having neglected to bring a base layer, I was now shaking like shi££ing dog and even briefly considered landing early. But the rewards were there and eventually the dramatic Dales landscape came to an end and the flats beaconed, I heard on the radio that Harrogate was ahead which confused me as my instruments were saying Ripon and I wondered if I was off course but all was well. There were some glorious formal gardens west of Ripon but the sky had cleared and it was obvious I wasn't going a great deal further.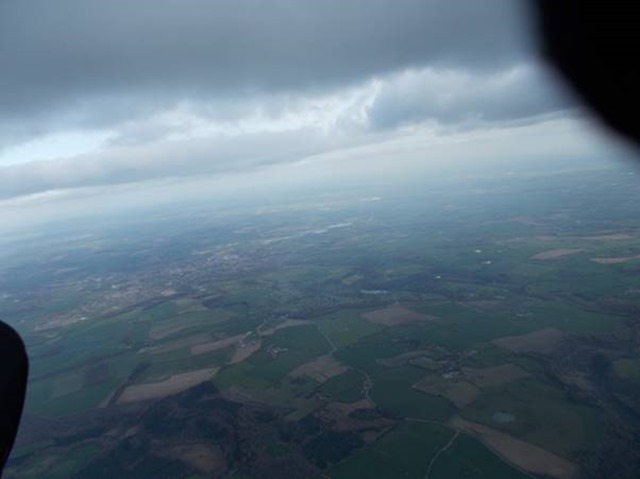 Ripon Ahead
Andy had chosen a landing field at Ripon which turned out to be an army barracks so had to reconsider at the last minute! Once he was safely down we had a chat and he pointed out the other pilots just north of the town which I hadn't seen. They appeared to be in zeros at best so kept my course to cross the racecourse at the south side. The A1 was in sight and I hoped to cross it between the MATZ at Linton and Topcliffe although it wasn't likely. My landing field at Skelton on Ure was complete with a welcoming mad March hare darting around in a bonkers dance - I felt like doing the same just to warm up! Having packed up next to the church of Christ the Consoler I made my way into the village to find the usual story with regard to public transport - a bus an hour earlier or an hour later then not at all till Monday so I began thumbing on the almost totally deserted road. Car three stopped and took me to the pub Andy had found near the square in Ripon, after the first pint it was beginning to dawn on us that we maybe weren't getting home tonight. There is no obvious route back and zero public transport so it was with relief that I took a call from Jacob Cleverley who, incredibly, offered to drive out to pick us up since his chances of flying after work had evaporated - thankfully!

Once Jacob had arrived and we'd bought him his tea we set off for Hawes and Dodd. It seemed to take forever to get back even in Jacob's motor and had we decided to try our luck hitching we'd have ended up sleeping in the gliders at the side of the road probably. It was pitch black when we arrived at the car and we were glad we didn't have to make the trip across the moor on the gated road. Our thanks to our saviour on the day Jacob - you are the man!
http://www.xcleague.com/xc/flights/2019458.html
Fire flying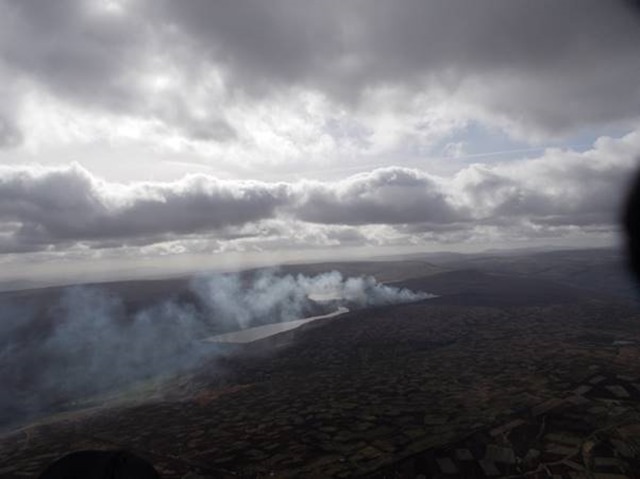 Big walk out here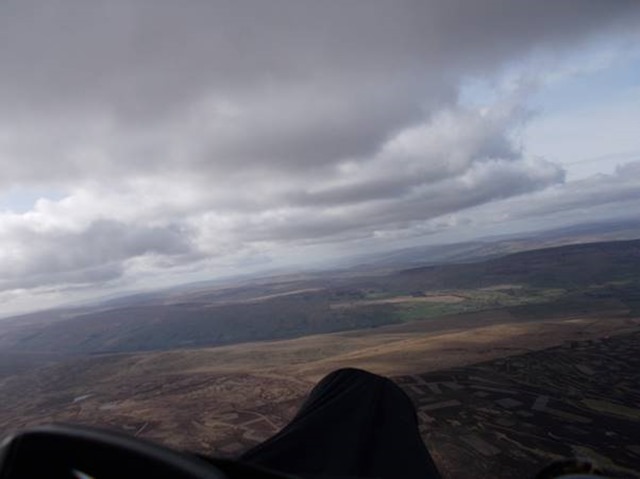 Ripon racecourse